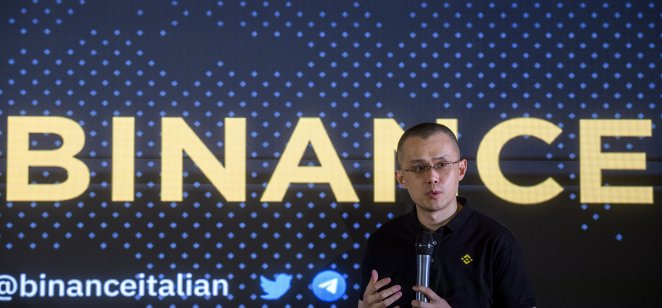 Content
The Binance CEO confirmed that the US arm of the world's largest cryptocurrency exchange is making another bid for Voyager Digital.
This was announced by the co-founder and CEO of Binance Changpeng Zhao. Bloomberg: "Now we will make another claim for Voyager, adding that they will "see how it plays out."
The news led to vgx token (VGX)Voyager's native token, as of 1300 GMT Nov 24, is up 24.4% from the previous day to $0.44, according to CoinMarketCap.
Binance.US filed to buy the assets of the bankrupt crypto lending platform in September 2022 but lost out to FTX – now in bankruptcy itself.
FTX bought the assets after two weeks and numerous rounds of bidding "in a highly competitive auction process." His offer was worth an estimated $1.42bn (£1.17bn) and consisted of the fair market value of the crypto lender's assets and $111m (£91m) of "additional value".
However, FTX filed for bankruptcy November 11, 2022 which led to the reopening of the auction and Voyager once again began "active negotiations with alternative bidders".
The crypto lender stated that "Voyager did not transfer any assets to FTX US in connection with the previously proposed transaction." So far, FTX US has sent a $5 million (£4.1 million) "good faith" deposit as part of the auction process "which is being held in escrow."
BTC to dollars
"The rumors spread by FTX are trying to push us out of the bid"
During the first sale of Voyager assets, there were fears that Binance's application would be rejected on US national security grounds.
The Committee on Foreign Investment in the United States (CFIUS) can block transactions that it believes may pose a threat to national security. Both President Joe Biden and former President Donald Trump are wary of Chinese investment in US companies.
In response, Zhao said, "First of all, I think the US national security concerns were rumors spread by FTX to try and force us out of the bid."
Binance CEO added, "There has never been any concern about Binance.US being included in the bid." He said that Binance has acquired several companies in America without any problems.
The CEO also confirmed that "Binance is not a Chinese company, we are not affiliated with China at all" and that Zhao himself is a Canadian citizen.
What do you think about BTC/USD?
Vote to see traders sentiment!
"Binance is not a Chinese company, we are not affiliated with China at all."

CEO Changpeng "CZ" Zhao (@cz_binance), which is considering a bid to purchase the assets of bankrupt crypto firm Voyager, said on @BloombergTV his company is erroneously considered Chinese "because I look Chinese". pic.twitter.com/Wqos9XTeW5

— Bloomberg Crypto (@crypto) November 24, 2022
$1 Billion Fund for Troubled Crypto Assets
Binance also plans to launch a $1 billion cryptocurrency recovery fund to buy distressed crypto assets. "If that's not enough, we can allocate more," Zhao said.
CEO added: "If in half a year there are unused funds and not many projects – I hope the industry will recover by then – we can withdraw them back."
Related Reading