Cattle prices are falling and the eastern indicator of young cattle ended the week at 926 cents per kilogram, down 115 cents from last month.
Key points:
National cattle rate fell below $10 per kilo
The influx of shop lambs softens the market
Cattle sold due to low prices
The volatile market was reflected in a sale at the Bega store on Thursday as cattle fell.
However, the young were in demand.
Bega Valley beef producer Mark Swan said he saw a sharp correction in the market.
"At the top end, fat cattle prices are back $700 to $800 per animal, but small ruminants are still worth the same price," he said.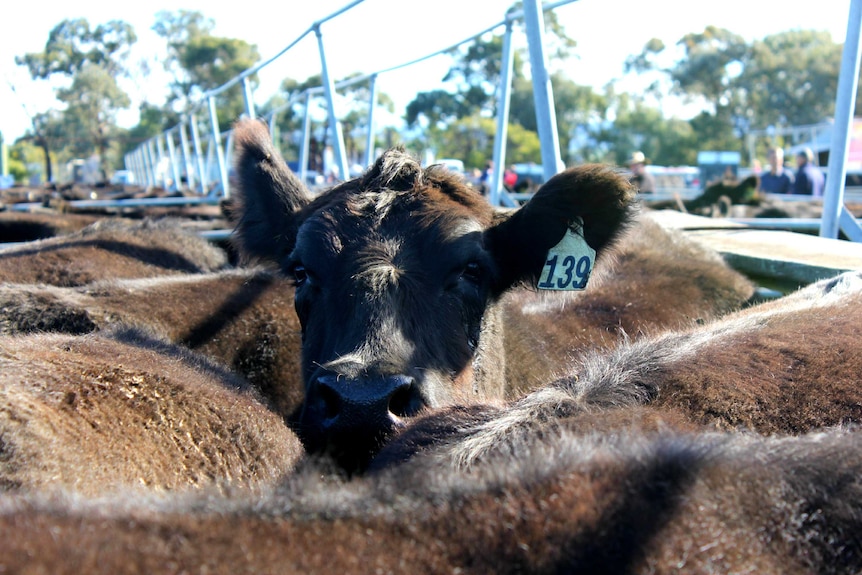 Nutrien SGL Leongatha livestock agent Stuart Jenkins said the decline was partly driven by weaker demand from feedlots and a Christmas rush in the cattle market.
"Everyone wants their cattle to be gone by Christmas," he said.
"We're all wet, everyone's awake, and it's only four weeks until Christmas."
In the state of Victoria, some farmers have made an unusual call to turn in their livestock as prices in all markets have fallen.
National Livestock Reporting Service market reporter Nicole Varley said top heavy steers were selling for 380 cents a kilo this week, well below the 450 cents a kilo they did a month ago.
"There aren't a lot of cattle going through there," she said.
"But some farmers bought cattle at very good prices early on, and with price adjustments for those margins, that is resonating for some people."
Market softening
AuctionsPlus Chief Economist Tim McRae said buyers are wary of a falling market.
"All the good analyzes point to this cattle market softening," he said.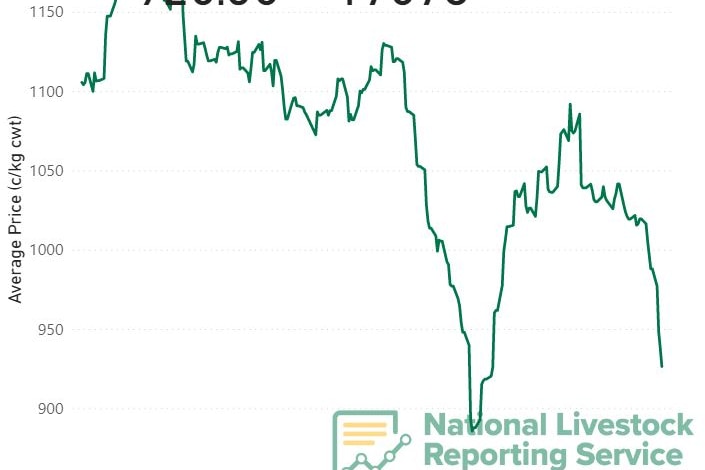 "So if you want to buy cattle, you might be looking at the market and waiting to see what happens next week.
"People are more likely to be patient if there is a possibility of a further fall."
With more forage on key pastures, farmers are not forced to sell, he said.
"So it's more of an income and cash flow situation," he said.
The price of lamb in the store has been reduced
A surge in supply and a lull in demand are hurting the in-store lamb market.
The price drop was felt at the Wagga Wagga sales yesterday when over 32,000 lambs were fenced in.
Nutrien Wagga Wagga kennel and auctioneer Peter Cabot said the store's lamb prices have been falling for weeks on end.
Mr. Cabot said there is a huge flow of lambs passing through the yards, which farmers tend to buy to fatten and sell later.
He said that the prices were reduced by 5-15 dollars per person.
"So this is another big drop considering they were $10 cheaper last week," he said.
"Suddenly, there were a lot of store-bought sheep on the market, as a lot of alfalfa had been underwater.
"And at this stage, there is simply no demand, and in reality, the lambs in the store are $50-60 per head cheaper than at the same time last year."
Mr. Cabot said the softer market lambs offered a good opportunity for producers to take the lambs into the market.
He said heavy lambs packed by weight and finish and quality marketable lambs are still in demand and making good money.
Since there were only three sales before the Christmas break, Mr. Cabot expected the number of sales to increase by 50,000 heads for each sale.
"This is fairly typical of the Riverina at this time of year and is not associated with floods," he said.
"Now we usually take fresher and better quality lambs from the eastern Riverina."
Mr. Cabot said that while the weight of the heavy crossbred sheep "supported them," the lamb market was $50 to $70 lower than at the same time last year.
"Sheep are making $4 a kilo, whereas last year they were making $6 or $7 a kilo — that's a far cry from the lamb market."