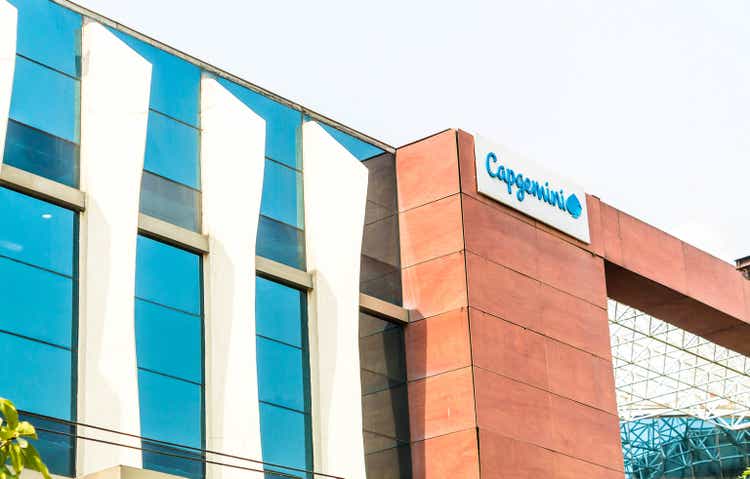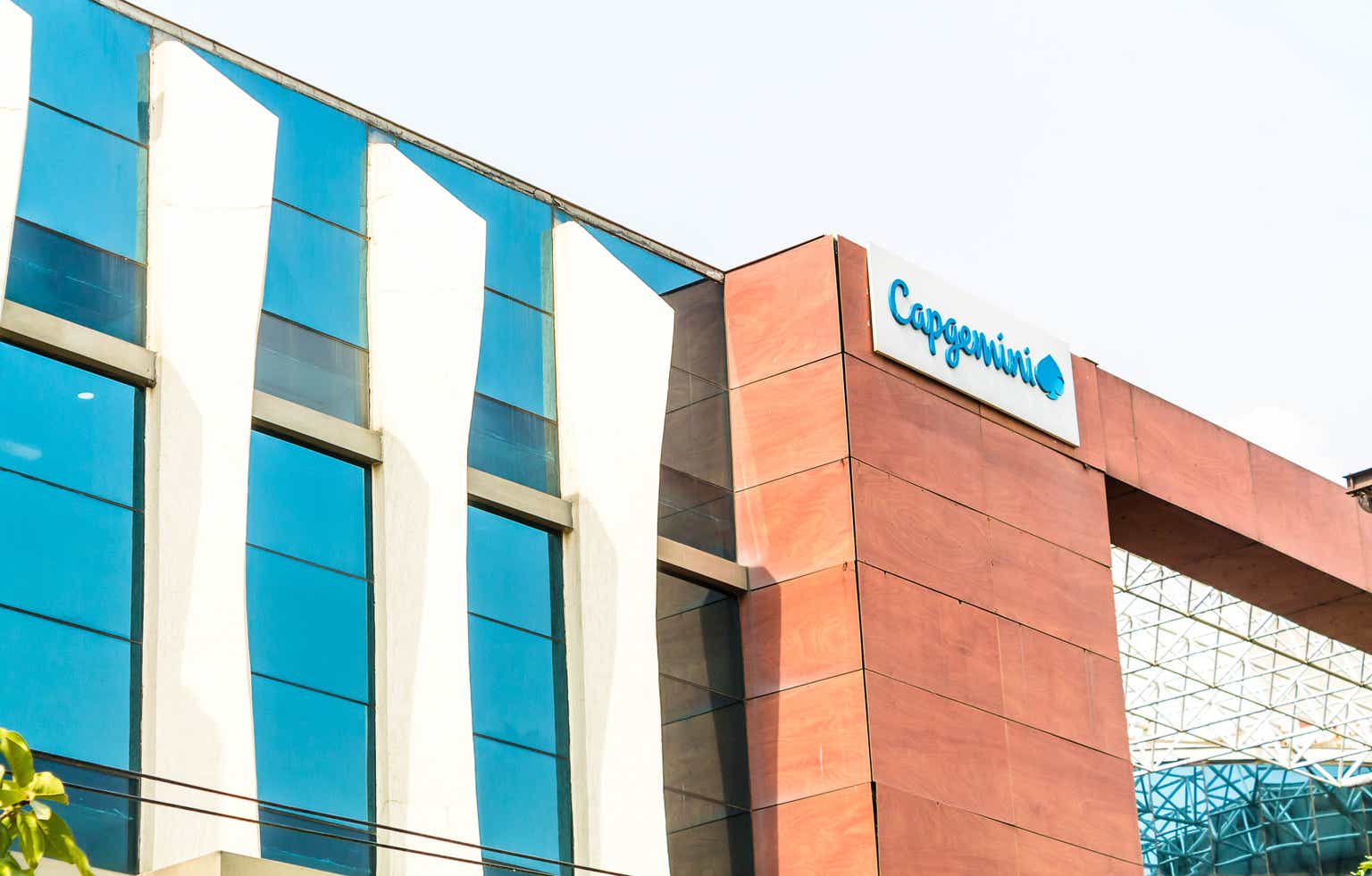 Dear Readers/Subscribers,
In this article, I will talk about the French IT giant Capgemini (OTCPK:CGEMY). I will walk through the company from a high level, talk about the benefits and what the company is striving for. it, and what are the risks for a business like that.
More importantly, I will show you what is a good price to buy a company and how much profit you can expect.
Let's see what this company offers.
Capgemini – What does the company do?
It is a French giant that manages annual revenues of about 18.2 billion euros, and from this revenue manages to squeeze 10-13% of the operating margin, which corresponds to a free cash flow of close to 2 billion euros per year.
As of 2022, the company employs 358,400 people, operates in 55 countries, and 65% of the company's operations are digital/cloud.
What the company does and bills customers for is transforming and managing its business with technology. The company has a 50-year tradition of these operations.
The company has an impressive track record of growing revenue and profits during difficult times…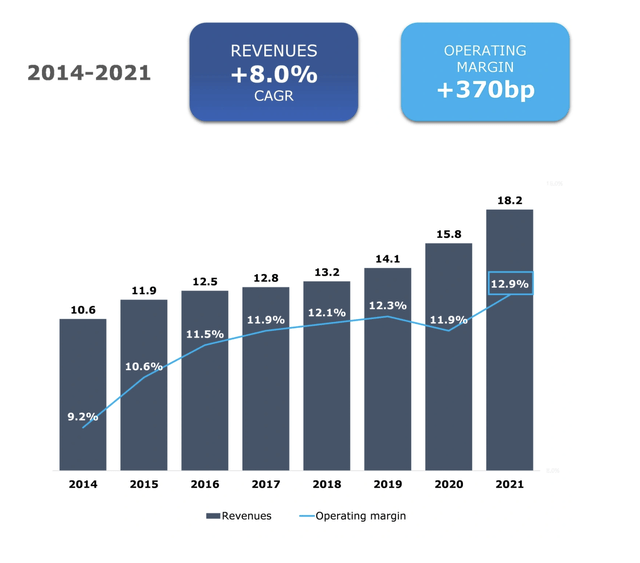 …and the company also has an impressive cash flow growth record. Organic free cash flow increased 2.8 times in less than 7 years. The company has customers all over the world, but in terms of revenue, 60% is in the EU/North America, another 21% in France and 11% in the UK/Ireland. This means that 92% of revenue comes from Europe or North America, and only 8% comes from Asia Pacific, Latin America and other regions.
Therefore, when investing in Capgemini, you should consider the company's high EU orientation.
In terms of client sectors, here's how things stand – an interesting and conservative split without much of a risk profile (Manufacturing can be many things).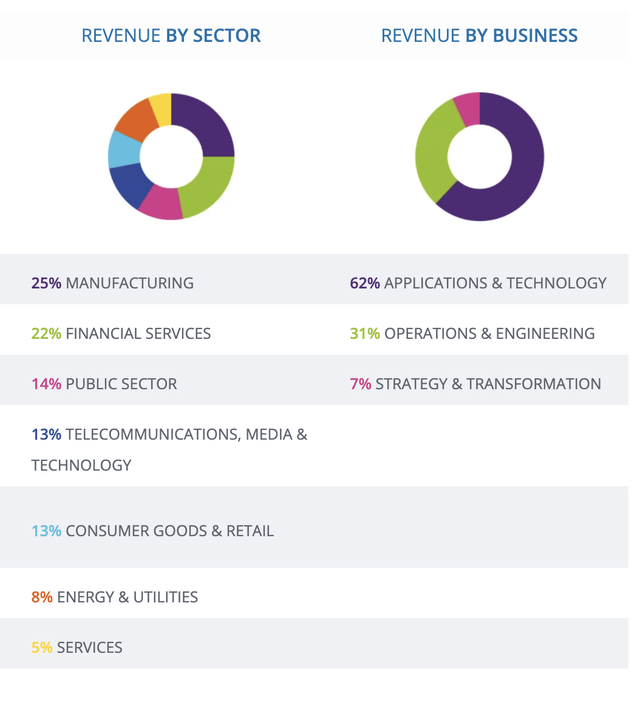 The company's main goals for the next few years (2025E) include 7-9% CAGR in revenue, another 100 basis points (14%) increase in operating margins, and a solid investment grade credit rating, just as it is today.
In terms of sectors/lines of business, we have the following things that the company does.
Strategy and transformationwhich focuses on transformational consulting activities and strategic services supported by Altran or its subsidiaries such as Cambridge Consultants.
Applications and technologies, focusing on things like designing, modernizing and expanding IT/digital environments with the latest technologies. Capgemini develops technology and application optimization solutions, including using its subsidiary Sogeti to provide local technology services.
Engineering and operations engages in the company's research and development, as well as business services and outsourcing/maintenance of IT infrastructures in data centers or in the cloud.
The company owns and operates 12 data centers worldwide, 50 delivery centers and 15 security centers.
Use cases are always relevant when presenting companies like this one. The company recently entered into a contract with London Heathrow Airport to contribute to and build on digital transformation and expand existing applications and infrastructure support for the airport in its current form.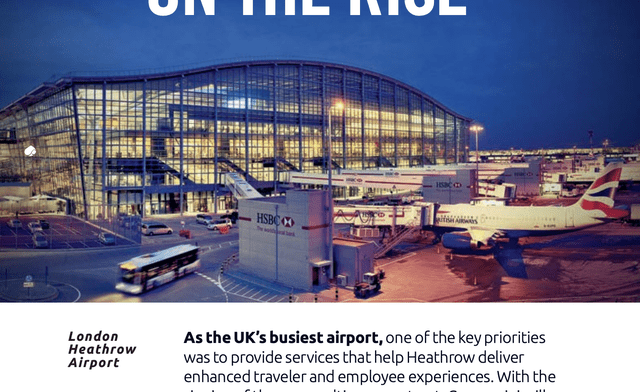 Another example?
Boston Scientific Corporation (BSX) recently signed a multi-year agreement with Capgemini, again to help digitally transform the company's commercial, supply chain and financial business processes.
So, this is a company that helps or deals with transformation processes, IT consulting and management consulting for really large organizations. Their clients include Mercedes-Benz (OTCPK:MBGYY), ANZ Banking Group, Swedish Transport Authority, Airbus (OTCPK:EADSY), the City of Amsterdam and many other world-class public and private clients.
Capgemini has significant price power due to its market position and positive trends and expectations are something we can confirm using the latest results sets for the company.
3Q22 is the latest set of company results we have. Earnings trends are very stable, growing in double digits and the book value to account ratio is close to 1x.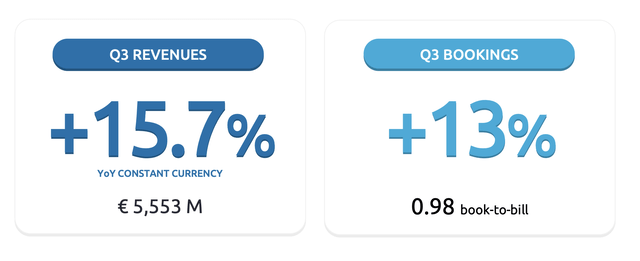 At this pace, we can see €20 billion+ in annual revenue and there has been significant growth in every single area and sector in every single geography. From a top lane perspective, there is very little or nothing negative to say here.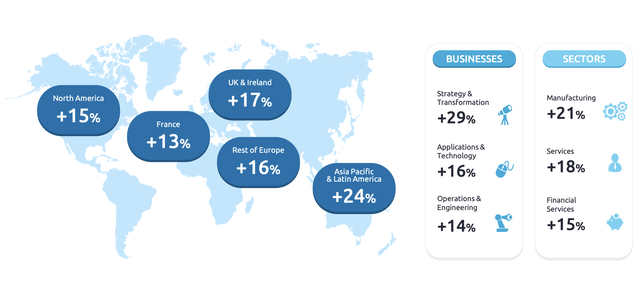 And here are some of the latest clients the company has brought in – again, you're looking at organizations from the public and private sectors around the world and from just about every line of business you can imagine.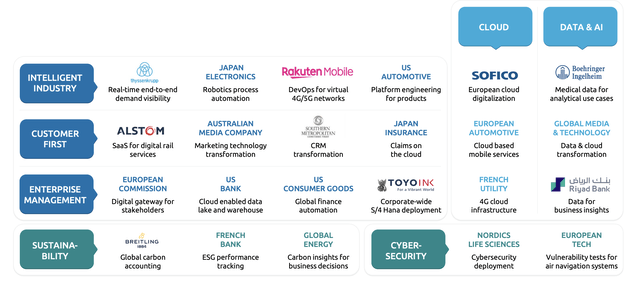 The company expects double-digit revenue growth of 14-15%, an operating margin of 13.1% despite increased production costs, and organic free cash flow above €1,700 – again despite continued pressure.
Risks in the current environment include clients adjusting to macro expectations and expecting a larger recession. The company, as of the current quarter, has seen no sign of this. There hasn't been any change in this regard worth mentioning, but it's one of the things you might want to look at – things like reserve levels, reserve to account ratios, and making sure contracts go to margin level. what we want. However, with the company's margins improving over the past few years, it is unlikely that the company is going to enter into contracts with lower margins.
The company's headwinds, instead confirmed by the company itself, are basically two. First, this funding for growth. This, of course, is logical, given the rise in interest rates in the past few months. The second change is that the company's clients over the past few years have not been interested in having excess cash on their balance sheets, given the low interest rates and available returns. Today, that has changed and it makes it less likely that customers will be loading up on their IT and capital expenditures, which is another hurdle a company needs to work on.
The fourth quarter is expected to be below 3Q22 levels. So we can expect some pressure here, but not to the extent that it will affect how the company is expected to make money in the next few years. Take a look at analyst expectations for the next few years.

We also, based on these forecasts, are unlikely to see any deterioration in the company's margins over the next few years or any fundamental issues that undermine Capgemini as a business as a whole.
This brings us to the valuation of the company and how we view the company in terms of valuation.
Capgemini score
Looking at the valuation of a company, we must take a premium for the company. Capgemini typically trades at a premium in excess of 16-19x P/E or so, and has had plenty of reasons for that premium over the past 15 years, such as a 10% CAGR in earnings per share. The stock price has decent volatility, with a minimum of 9.6x P/E and a maximum of 24x P/E.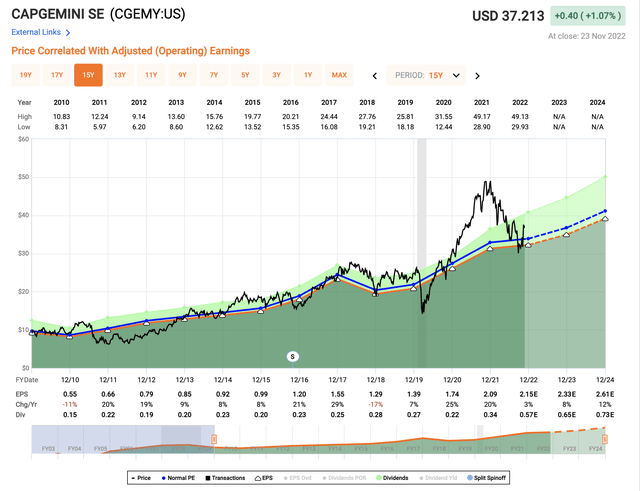 Obviously, 24x P/E is too much and less than 10x P/E is too little given the growth rate this company is offering, not to mention the expected dividend growth over the next few years.
Similar companies exist. Larger ones include Accenture (ACN), IBM (IBM), Infosys (INFY), CGI and others. In terms of peer multiples, Capgemini trades at impressive discounts to any competitor except perhaps IBM, and IBM certainly has its own issues to deal with. Other typical peers trade much closer to 20-25x P/E, making this company relatively cheap, at least in terms of peer multiples.
In terms of street and analyst targets, the company is undervalued by 20%, which is in line with most analysts who follow the company's trends. 18 analysts from S&P Global follow the company with a range of 190 euros at the bottom to 241 euros at the top, averaging 215 euros. Of the 18 analysts, 17 have either a BUY rating or an equivalent positive outlook on the business.
From a historical point of view, investments here make sense. The company's average valuation is around 16-18x P/E, which, given the company's expected earnings, gives us a 2-3-year upside potential of at least double digits or close to double digits – about 14% per annum with an 18x forward . P/E.
Current trends for natives are even better, with an average of around 17.5x, with current trends around 15.1x.
The current cash flow trends are positive, especially given the current trends in how spending and inflation are affecting the situation.
From a conservatively adjusted DCF model, assuming a double-digit expected growth rate of earnings per share (about 11%) at a discount rate of about 10%, we derive an implied fair value for the company of about $33 per share.
I prefer to allow a slightly higher premium here and consider a valid Capgemini premium of 17-18x P/E, implying a valid long-term PT of $40-45 for the company's CGEMY ADR – or a PT of €210/share for own share traded on the Paris Stock Exchange.
This leads to the next thesis for the company.
Thesis
My thesis for Capgemini is as follows:
Capgemini is one of the world's leading IT consulting and business management companies. It is inherently focused on the EU, but with a growing influence on other regions of the world. The future of this company seems secure as IT plays an important role in today's world.
The company definitely deserves a BUY on a good note, delivering double digit growth potential while maintaining conservative security through very robust processes, experience and clients with very long contracts.
I give PT company €210 per native, which makes the company BUY here with upside potential.
Remember I'm all about:
Buying undervalued – even if the undervaluation is minor and not mind-bogglingly massive – companies at a discount, allowing them to normalize over time and reap capital gains and dividends in the meantime.
If a company goes far beyond normalization and becomes overvalued, I take profits and switch my position to other undervalued stocks, repeating #1.
If a company is not overvalued, but fluctuates around fair value or reverts to undervaluation, I buy more when time permits.
I am reinvesting income from dividends, job savings, or other cash receipts as described in paragraph 1.
Here are my criteria and how the company meets them (highlighted in italics).
This company is generally good.
This company is fundamentally safe/conservative and well run.
This company pays well-covered dividends.
This company is currently cheap.
This company has real growth potential based on profit growth or multiple expansions/returns.
The company meets all but one of my investment criteria, which is why I consider this a BUY.