NEWS | PECULIARITIES | PREVIEW | DEVELOPMENTS
Shen Shellenberger, JerseyArts.com
originally published: 11/24/2022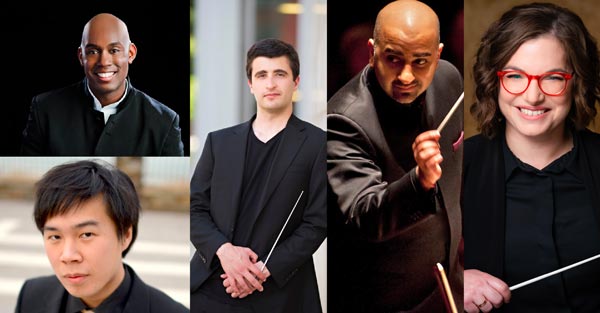 Photos: Joseph Young (top), Joshua Hong (bottom), Jacob Joyce, Ankush Bal and Noam Aviel
Finding a musical director for an orchestra is not an easy task.
Per Symphony in C majornationally acclaimed Mid-Atlantic Young Professional Orchestra, the process was made more difficult by shifting gears when the pandemic suspended a series of performances featuring five guest conductors, all of whom were candidates for the music director position that was originally planned. for the 2020-21 season.
Pamela Brant, president of the orchestra, said the decision to shelve the series was difficult. But there was no other choice. "We couldn't perform indoors with a full orchestra," she said. "And many venues, like the Gordon Theater (Rutgers-Camden Center for the Arts) where we perform, didn't fully reopen until January 2022."
However, the downside to this coin was that fewer live shows resulted in lower costs. "For example, we didn't need a music director at the time," Brant said. And when the orchestra was ready to resume its performance schedule and introduce a series of guest conductors, candidates were still available."
Advertise with New Jersey Stage for $50-$100 per month, click here for details
---
Two years later, a series of guest conductors began, with the season opening on 24 September and upcoming performances on 3 December, 21 January, 4 March and 6 May.
Brant said that finding the right person for an orchestra like Symphony in C, whose mission is to identify and nurture up-and-coming musicians and help them launch professional careers, is "like looking for a needle in a haystack."
"The person must be a promising young conductor with enough experience to provide a meaningful experience for young musicians."
"They need to be inspired," she said, "and be able to inspire others."
The position also requires maturity and self-confidence. "She or he is the public face of the orchestra," Brant said. "These are the people people want to talk to after a concert or gala. If a community organization is looking for someone from the orchestra to perform for their group, they need a music director."
And that person also needs to understand what it takes to successfully raise funds. "They need to know what it means and how to do it," Brant said.
In five concerts, candidates – Jacob Joyce, Joshua Hong, Noam Aviel, Ankush Kumaras well as Joseph Young – everyone brings their own personality and perspective to the podium, and some make proposals for the repertoire.
"One of the guest conductors chose Carl Nielsen's Symphony No. 4, Op. 29, "inextinguishable," for his signature work," Brant said. "It's a piece that no one in the orchestra has played before."
"I love it," this candidate said of Nielsen. "I wanted to bring in something less familiar to the orchestra, along with the standard of Tchaikovsky's Piano Concerto."
Another selected "Intermission" is a work by the American composer, violinist and singer Caroline Shaw. "I discovered this during the pandemic," he said. "I listened to it almost every day. It helped me get through." This conductor will close the concerto with Beethoven's Symphony No. 3. "It's the basis of the standard repertoire," he said, "and I think it's a good piece to present itself to an orchestra."
Another candidate reported that her program, which included Liszt's Waltz No. 1 "Mephisto" and Berlioz's "Fantastic Symphony", Opus 14 was offered to her by the Symphony in C major. "The music is wonderful," she said. "I always wanted to conduct a piece by Berlioz. This is a creative masterpiece. And the soloist chose Vietamps. Violin Concerto No. 5, which fits perfectly between Liszt and Berlioz."
This opinion is shared by another invited composer. The Symphony in C offered this Mozart program and I agreed with it," he said. "I love the variety of the three parts and the way things move along in tempo. He must be a lot of fun to work with."
Advertise with New Jersey Stage for $50-$100 per month, click here for details
---
And the last candidate commented: "My main choice for the concert was Mendelssohn's Symphony No. 4 in A major, Op. 90, "Italian". I think it's a great piece, showing the virtuosity and style of the orchestra."
Although these young conductors have rich and varied backgrounds in the music world, each of them told me that they are very enthusiastic about the opportunity to work with Symphony in C.
"For such a young, budding conductor like me, this is a great honor and a real surprise," said one of them. "I am extremely excited and grateful."
Another said: "I am humiliated. I know this orchestra and think of it as a band that will be receptive to innovation and a fantastic live experience."
"I have known about this band for several years now and know friends and colleagues who have played with the orchestra in the past," said another. "The reputation of Symphony in C in the world of classical music is phenomenal. I am impressed."
Another told me, "I'm excited about the opportunity to collaborate. I have heard wonderful things about the talent and passion of the Symphony in C musicians and I am honored to be chosen as the orchestra's guest conductor."
And the last of the five said: "I am always happy to conduct young people, and the Symphony in C has a strong reputation as a pre-professional orchestra."
I asked the conductors to talk about their favorite composers and pieces of music. No wonder the answers were all over the music map.
"It's hard to choose," one of them told me. "I always fall in love with the music I'm currently studying."
"My favorite composer is Mahler," said another. "My favorite work at the moment is Prokofiev's Symphony No. 5.. "It changes daily. Elgar's Falstaff was yesterday.
In a similar vein, one said, "I can't stop at one favorite composer or work, but some of my favorite composers that I consider somewhat underrated are Schumann, Nielsen, and Britten. But it changes every day."
"I almost always feel like whatever piece I'm conducting at the moment is my favorite," said another.
And the fifth candidate said to me: "Every conductor at some point should worship the greats — Mozart, Beethoven and Brahms — but my favorites these days are Bernstein's Symphony No. 2, The Age of Anxiety, and Mahler's Symphony No. 7. he said. "Oh, and also Strauss 'Also Sprah Zarathustra'. I know it's a movie cliché, but just listen to the rest. There's nothing like it."
I learned about the music these five people enjoy and heard their thoughts on individual concert programs, but I also wanted to know what each conductor thought they could do for the orchestra.
One of them said: "I run a podcast designed to provide listening tools for people with little experience in classical music, and I enjoy developing concerts in new formats that are more appealing to audiences of all backgrounds," she said. "I have been working my entire career to be the best ambassador of classical music I can be and I really want to bring it to new audiences. This is what I would like to continue to focus on in the Symphony in C.
Another said that his experience with a professional training orchestra would be an asset. "I've had many opportunities to work with young musicians who are incredibly talented and who are looking forward to successful careers in the professional world," he said. "I was the music director of a start-up orchestra with a small staff and limited resources, and my vision was to provide the audience with a unique experience.
"There is a huge amount of orchestral repertoire, and I think I can put it together, produce and program concerts that I think will be fresh and exciting and still be in line with what an orchestra like Symphony in C is aiming for. ".
The third candidate told me: "I consider myself a conductor of music and composers, as well as a defender of orchestra musicians. The only reason I am a conductor is because I think I can be useful," he said. I will try to make their experience productive, but we will have fun doing it. I consider myself just another member of the orchestra."
And another said: "I collaborate with orchestras from all over the world and can help create a unique network for Symphony in C locally and internationally. And my musical experience is diverse: from jazz to opera and symphonic music.
"I feel that my experience of performing in many styles and genres helps me attract new and different listeners to classical music."
With such a wide range of experience, interests and talents, Symphony in C will no doubt make a final choice as to who will be the next music director.
"We're seeing and auditioning for some great candidates," Brant said, "and we'd like to select someone by the end of the year, although it may take longer."
"We'll know when we find the right person."
---
About the author: A Jersey girl, music lover and culture buff, Shen Shellenberger has made a career out of a lifelong love of the arts. From working at WXPN-FM and the Philadelphia Museum of Art to 25 years as a freelance writer, she brings her Jersey roots to everything she does. Whether it's the beauty of classical painting, the dynamics of contemporary dance, or the raw energy of rock 'n' roll, Shen brings her own perspective to everything she covers.
Content provided Discover the art of Jerseyproject of the ArtPride New Jersey Foundation and the New Jersey State Council on the Arts.