Good morning. I hope this message finds you happy and healthy this Thanksgiving morning. I have a lot to be grateful for in both my personal and professional life. Most of all, I am pleased with the trust readers have in my work with Matt. So thank you for spending a few minutes with the weather from Space City on this festive morning.
This morning's forecast will focus on the upcoming rain, which will bring two days of showers and thunderstorms to the Houston area. While most of this rainfall will be manageable – 1 to 4 inches should fall in most places – we are concerned about more isolated areas that could see up to 6 inches of rain from today through Saturday morning. This could lead to street flooding, which is why we have issued a Level 1 Flood Warning.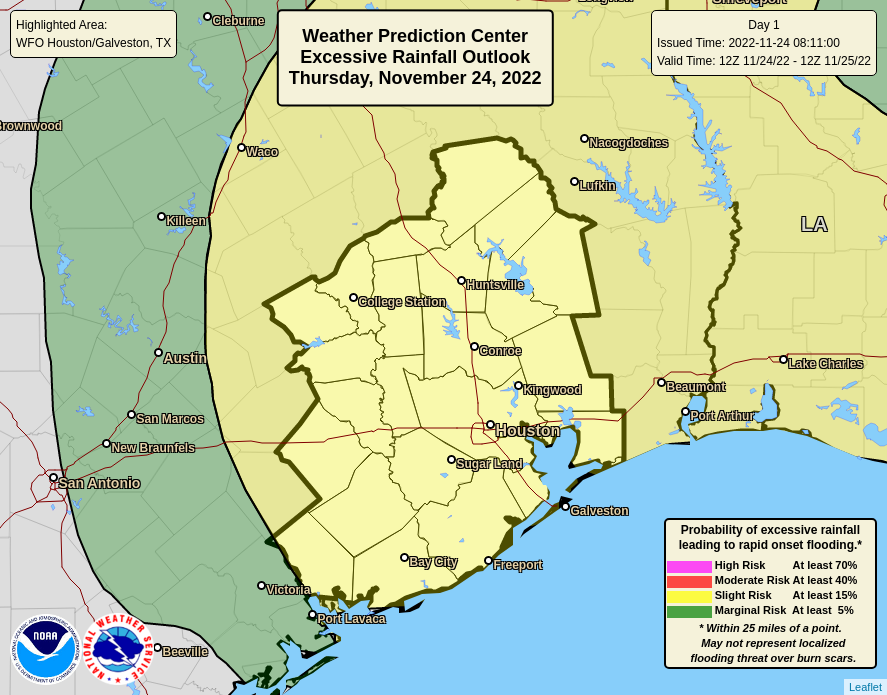 Thursday
As expected, this morning we are seeing the development of a storm off the coast, around Freeport and Lake Jackson. These storms are linked to a warm front moving in from the Gulf of Mexico and will become more common this morning. This front should advance to Interstate 10 by about noon, and it is likely that the most severe storms will lie north of it this afternoon. So our biggest concern today is the accumulation of rain along and north of Interstate 10. Maximum temperatures today will hit about 70 degrees, give or take, with cloudy skies and muggy air. I expect the showers to stop tonight and into the night hours while the atmosphere recharges.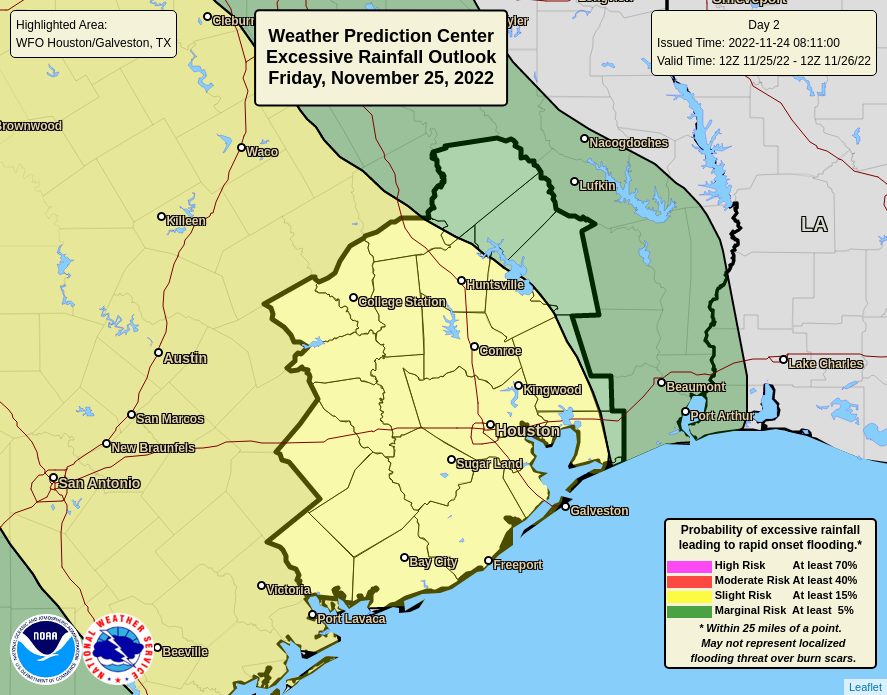 Friday
Conditions will continue to favor widespread downpours and thunderstorms as the low pressure shutdown system brings moist air to the surface. Our higher resolution models currently suggest that Friday's storms will peak in the afternoon, evening and night. Over the past couple of days, the overall movement of this low pressure system has slowed down, so it is possible that the threat of heavy rains will continue until Saturday morning. This is what we will be monitoring. Friday's highs will be in the mid-60s.
Saturday and Sunday
We continue to expect the situation to clear up significantly this weekend, but there is now a chance for prolonged storms on Saturday morning. Skies should become partly sunny in the afternoon, with highs in the mid-60s. It will be sunny, maximum around 70 on Sunday. Expect this warming trend to continue until Tuesday or Wednesday when the next front arrives.
As we continue to monitor this dynamic rainfall situation, Matt will provide you with an update this afternoon.
Fundraising
There is still time to support the work we do here through our annual fundraiser. You can buy Space City Weather items here or make a donation by simply clicking "I'd like to donate". Thank you!