LINWOOD, Washington, November 25, 2022The WAGRO Foundation is back in Lynnwood for its annual Day of the Dead celebration on October 29th, offering everything from music to dance, art and, of course, food.
The exhibition featured the work of photographer Mary Gomez Kamba with portraits of women dressed as La Catrina. Kamba began photographing women six years ago while living in Singapore, trying to tell their own, unique, personal stories.
"I wanted to tell women's stories that I felt connected to as a woman" Kamba told the Lynnwood Times. "I feel like I've been through a lot of changes in my life and I wanted to see their stories and see what I can learn from them."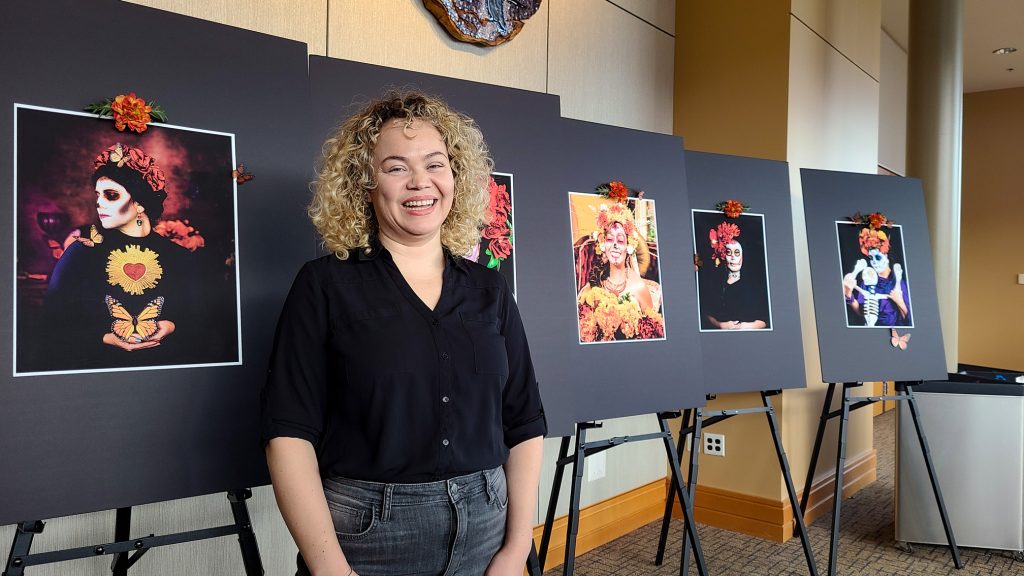 When Kamba returned to Seattle, she decided to continue her exhibition by representing the women of her community. During the pandemic, Kamba noticed that many women had different experiences: some had losses, while others had more time to re-evaluate themselves. The artworks featured at the Day of the Dead celebration featured 17 unique stories filmed between 2021 and 2022, each with a theme of "rebirth". Kamba found her models through suggestions from members of her community, including Lynnwood City Council member Juliet Altamirano-Crosby.
Just a few of the stories told through Kamba's portraits include the tamale business woman who switched to selling face masks during the pandemic, the 15-year-old who couldn't host a quinceañera because event centers were closed, and a mother and daughters who connect with their heritage through dance. Kamba's work empowers women to tell their story so that others will fall in love with their story, see weakness, see vulnerability and accept it as part of being human, she told the Lynnwood Times.
"At the start of my exhibition, I wanted to focus on the fact that Dias de los muertos was something that was celebrated before the glamorous image of Katrina," Kamba said. "It's something generic that we celebrate that connects us to the celebration of life."
Kamba has a photography studio in North Seattle where she lives called Portraits of Women.
The event began with a traditional Aztec dance performed by the German-Maldonado family and a few close friends. The dances were followed by a costume contest called Las Catrinas. Katrina are recognizable by their iconic skeletal facial designs and usually wear elaborate headdresses or hats. In fact, these are symbols of the Day of the Dead, and the costumes tell a story.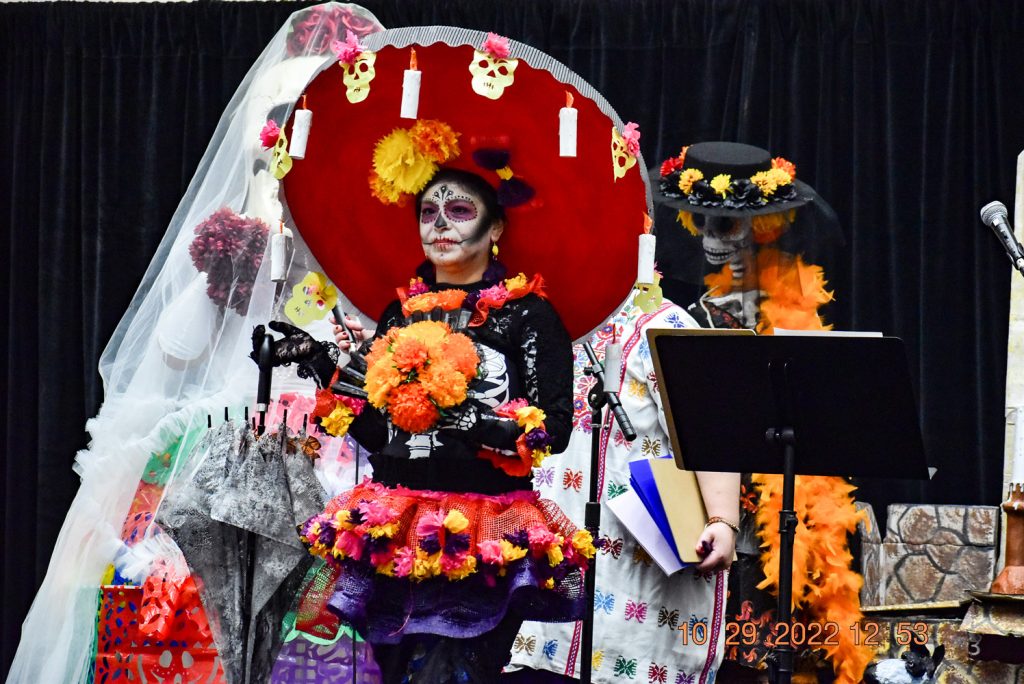 The winner of this year's costume competition is Silvia Rodriguez, who made her costume from 100% recycled material to spread awareness about climate change.
During the event, Day of the Dead poems known as "Calavera Literature" were also read. Altamirano says the poems provide insight into how Mexican culture views death. "It's a way to see Mexican culture – life and death and the way we see them."
"We see it satirically, funny," she explains. "This is how we accept death in our lives."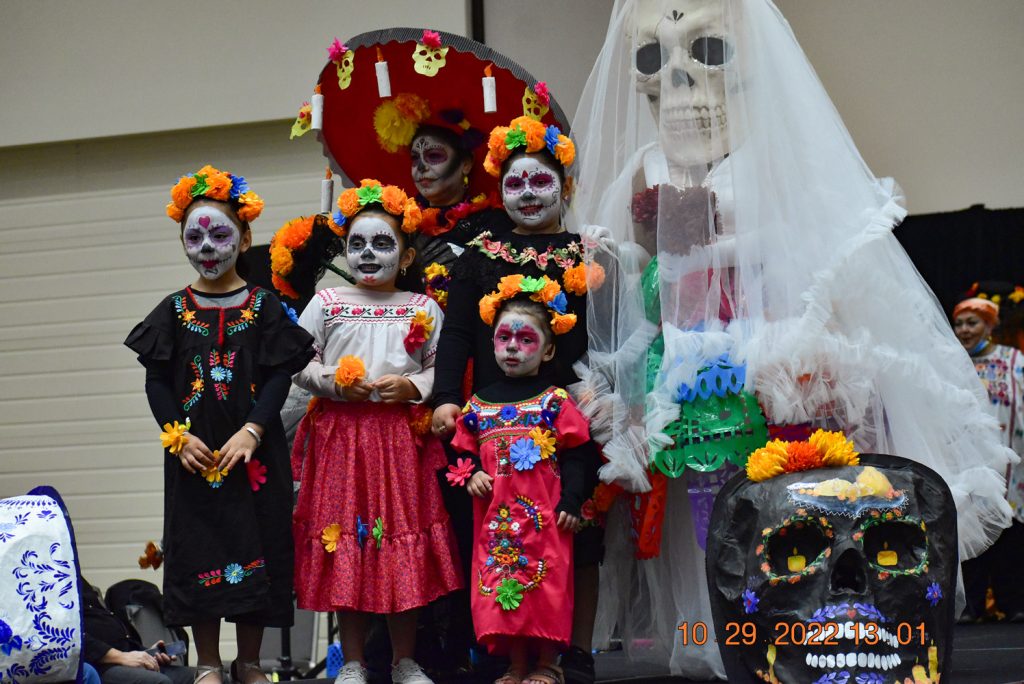 At the final event, the artists presented their Ofrendas. Ofrenda is, in fact, an altar decorated with offerings for deceased loved ones. Altamirano explained why they are central to the celebration, saying, "Ofrendas are offerings for our dead people. It's a way to communicate with them. These are the elements that guide the soul and spirit to reach our homes and our lives again."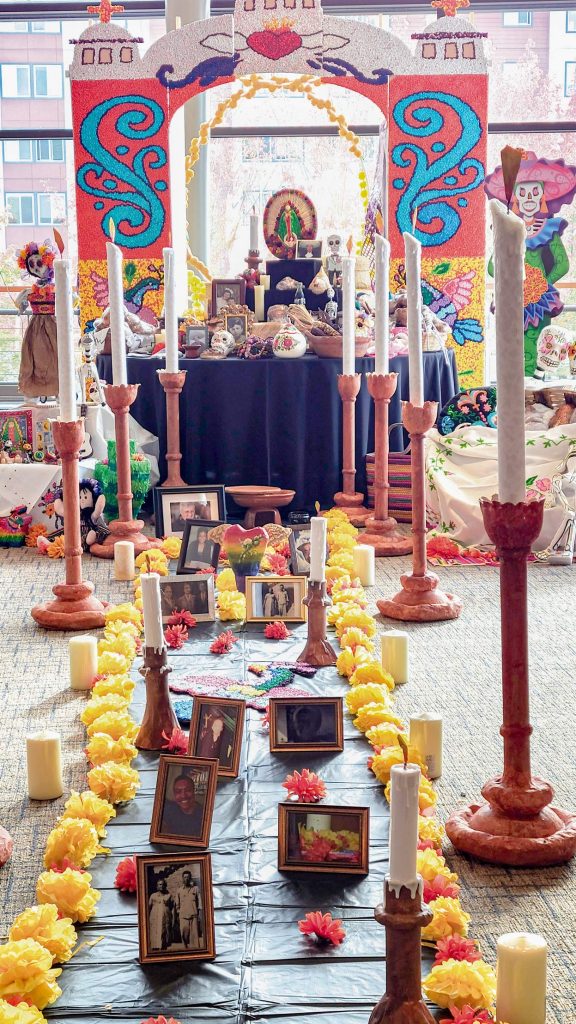 Altamirano said that it is customary to place food on altars that loved ones have enjoyed, and that candles and flowers are also used to help spirits return to their living relatives. According to Altamirano, the different levels of the altar can also symbolize "earth, life and heaven".
Of course, no holiday is complete without delicious food. For the occasion, volunteers prepared tamales and pan de muertos.